Today, some San Francisco firsts:
1) First person seen nude. (A 30-something white guy, changing at the Richmond YMCA. And, of course, he was quite hairy.)
2) First crazy person seen on bus. (A middle-aged Asian woman, strutting around like she was on a runway and saying things like, "Spells! Spells! Abracadabra! Racism! Spells!")
3) First mail received. (Mom sending me my cell phone charger.)
4) First time--in my life, actually--asked, "What's your sign?" by a stranger. (A girl behind the counter at the Y. Actually I had talked to her yesterday too, so, technically, she's not a stranger.)
5) First illegal thing done. (Flashed bus transfer ticket that had expired 20 minutes earlier to uncaring bus driver, walked beyond his line of sight, did Tiger Woods-like fist pump, exclaimed "Yes!" I guess this isn't really
illegal
, per say, but it certainly wasn't
right
either.)
Also, I got tickets to Nickel Creek/Andrew Bird at the Warfield in early December. I guess that's a first too, but that's kind of a mundane thing. Pretty soon I'll be talking about other such non-events as my first West Coast lay or first "vigorous handy" received in the back of a late-night BART from a tranny dressed like a character from Scooby Doo. Um...
SF pics coming soon!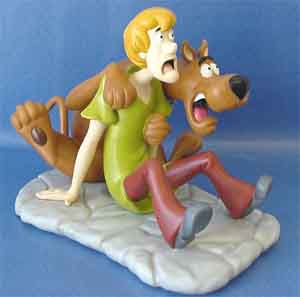 Scoob and Shag, on what suspiciously looks a whole lot like an air mattress.